Twelve Days of Stress Busting and Wellbeing ideas
Tuesday 12th December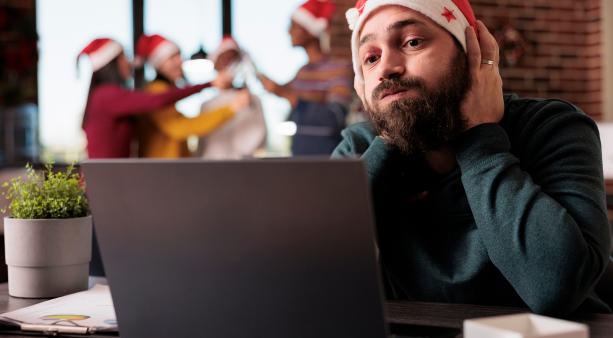 Let's face it, December is busy month. For many of us, we are managing our usual daily routine and planning time off for festive celebrations, which can mean passing workload to others. Add in the stress of shopping, cold weather, social events, school plays or festive celebrations, seeing family, friends, and neighbours, it is a lot to cope with! Sometimes our immune system takes a hit while we try to get everything done perfectly.  So, what can you do to help manage unavoidable stress?
Our mental health team have put together a few ideas and hope you can make use of the Festive Twelve Days of Stress Busting and Wellbeing ideas.
1 Prioritise – what do you need for yourself today? Take time to reflect and plan. If you really do not have "just 5 minutes" say "No".  
Wellbeing idea – Take time to plan tomorrow's diary with tasks that need doing as well as something nice.
2 Set a realistic budget and plans and stick to it – Festive celebrations are not just about gifting material things.  Think about how you can enjoy your time.
Wellbeing idea – Plan a day out or a night in with someone you love.
3 Exercise outdoors – In the cold winter months we may just want to stay indoors. It is well known that reduced daylight can lower our mood as can reduced activity. 
Wellbeing idea - Get out in the daylight for a lunchtime walk to boost vitamin D levels and endorphins.
4 Keep hydrated - Aim to drink 2 litres of water daily. Too much caffeine and sugary drinks can hype you up making it more difficult to juggle so much to do.  
Wellbeing idea – Measure the water you are consuming and reduce caffeinated beverages.
5 Breathe – Stop what you are doing, even just for a few minutes. It is easy to get sucked into the hype and frenzy of festive planning.  Take some restorative breaths to help you slow down. 
Wellbeing idea – Try a guided relaxation or meditation.
6 Manage expectations at work and at home – With more to do and less time to do it, can it really all get completed well? 
Wellbeing idea – Leave buffers between meetings and tasks, even five minutes can give you space to change gears. This includes leaving extra time to travel, there is more traffic on the road this time of year.
7 Connect and communicate with others – One of the reasons we feel pressure to see family and friends at Christmas is all the times we didn't see them throughout the year.  Connection really needs to be intentional and planned.
Wellbeing idea – Prioritise what you want to do and make your time quality not quantity. For those you people you won't see, plan something after the festive period in the New Year so you have something to look forward to.
8 Be flexible – Focus on what you can control and let go of what you cannot.  If your work project is delayed, you are stuck in traffic, the supermarket has run out of ingredient you usually use and only has an alternative, just bend and go with it.  
Wellbeing idea – Write down what is worrying you and consider if you can action it or just let it go.
9 Eat well - Reach for healthy balanced food choices to ensure vitamin and minerals keep your mood up.
Wellbeing idea – Alternate calorie laden treats with fruit or vegetables. 
10 Reduce alcohol – Help to keep your mood jolly by drinking in moderation.  Too much alcohol can leave you feeling low and tired because it can also impact your sleep.  
Wellbeing idea – Have some alcohol-free days and alternate water with any alcohol you are having.   
11 Step away from screens and limit time on social media – Most of us cannot resist keeping in contact 24/7.  This time of year, make it priority to focus on who is present in real life, not on social media. We all know that social media is only the best of the best, so be real and see if your own stress reduces. 
Wellbeing idea – Set a time to put that phone, tablet or laptop away each evening.
12 Relax and sleep – Get an early night in. Regular routine is hard to keep when there is so much to do. Plan your bedtime and stick to it.  Sleep is one of the most restorative tools to reduce stress. 
Wellbeing idea – Bath, facemask, read, early to bed.  Try it, you may like it!
« Back to News & Blog