How our Mental Health Service became 'Award-Winning'
Thursday 2th February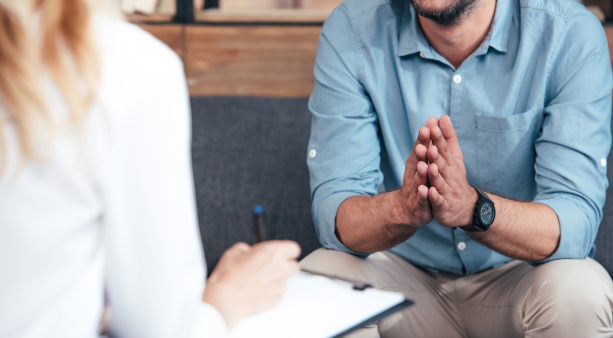 IPRS Health were named winners of The Guardian award for AHPs working with people who have mental health problems in October 2020, but why did we win?
What did we do?
Working with our client, a large Utilities Provider, we designed and launched a new Mental Health self-referral portal. This enabled significantly reduced waiting times  and removed blockers for individuals who were ready to seek support and treatment from our team of CBT therapists, whether seen face to face, via telephone or via our App, enabling secure video consultations.
How did we do it?
We recognized the requirement for enhancing our service following reviews of user feedback raising concerns about the established  referral pathway. Feedback suggested that the referral process had too many steps from the point at which someone had the motivation to seek support, to receiving an assessment with an appropriate clinician.
The original process involved seeking input  from the employee's Occupational Health Team, followed by being referred to the company's Health Trust Fund provider and finally to their Mental Health trust provider, IPRS Health. It soon became clear that there were too many steps within the referral and patient journey pathway.
We listened to this user feedback and by working with Occupational Health Team and the Health Trust fund provider, we successfully created a safe and effective self-referral portal for employees to use. This allowed the service user to make their own referral and then receive a clinical assessment  by telephone or video via our app.
We used multiple key stakeholders to help shape the content of the self-referral form, whilst ensuring it was safe, compliant with data protection, GDPR and consent. We established a collaborative project group consisting of the company's Occupational Health team, Health Trust fund provider, Senior CBT Therapist and Data protection/Clinical Governance Officer to ensure accuracy and compliance.
What was the impact?
A detailed review all client feedback and referral data evidenced the huge positive impact of this project.
Following the launch of this new service, monthly referrals increased by 100%, with the forecast for annual referrals to reach 400 compared to 200 from the previous year. Furthermore, with a workforce of around 4500 employees, referrals utilization went from 5% to 10%, showing that employees now had more confidence in seeking a referral via the self-referral pathway.
Significantly, by using the self-referral portal, employees were able to receive an assessment delivered by a CBT Practitioner or Psychological Well-being Practitioner within 1 working day. The wait with the previous referral pathway could have been up to 10 working days.
We were extremely proud of the results we achieved with our client and their testimonials echo this view.
'Proud to be the first water company to offer this level of service in IPRS Health's portfolio of Mental Health Customers'
'We all know that early intervention is key for better outcomes, this new process allows for early appointment with minimal touch points providing the right support at the right time'
'Average length of absence – nearly reduced by 100%! We can assume that earlier intervention and access to the service has contributed to supporting employees earlier, maintaining them at work and returning them to work sooner and enabling recovery to do so.'
Will this work for my business?
All businesses are different, and our experience tells us that there's no 'one size fits' all solution.  We will work with you and your business to create the best solution to fit your unique needs. If you're interested in discussing our Mental Health services in more detail, we'd love to hear from you! If You can get in touch with our friendly team here or start a Live Chat (9am-5pm).
« Back to News & Blog