Introduction to Anger Managament
Monday 11th November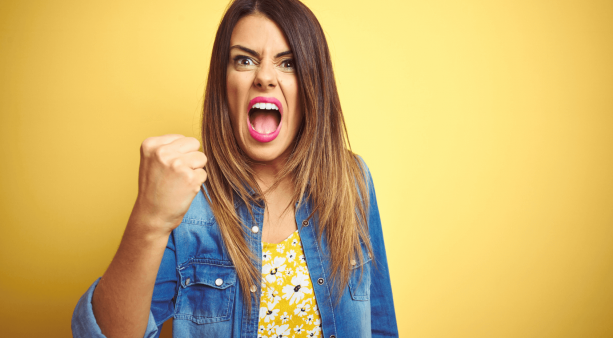 Anger is a normal emotion that we all experience at times.  Anger can be very useful. It can give you a way to express negative feelings or help motivate you to find solutions. However, it can become a problem if it is too extreme, occurs at inappropriate times, or lasts too long. Struggling to manage anger can affect your mood, relationships with others and your working life.
How anger may affect you:
Thoughts
Our interpretation and beliefs about a situation or how we perceive the intentions of others can result in anger. Typical thoughts may include:
I won't stand for it
This is unfair
I have to do something about this
I am being mistreated
Emotions
How we think influences how we feel. Typical feelings may include:
Tense
Irritable
Stressed
Furious
Physical symptoms
Feelings of anger trigger the 'fight or flight response'. This helps energise us to fight or run away. The action urge associated with anger is the urge to attack. We will notice lots of physical sensations, which might include:
Fist or teeth clenching
Tense muscles
Heart racing
Increased breathing rate
Feeling hot
Behaviours
We respond to our thoughts and feelings, by acting, or feeling an urge to act. Typical behaviours may include:
Shouting
Swearing
Throwing objects/slam/hit objects e.g. doors
Withdrawing
Physically hitting others
The Anger Cycle
Anger has consequences, and they often involve hurting other people, either by hurting their feelings or causing them physical harm. Following an outburst, you may find that you think very critically of yourself and your actions. You may feel ashamed and guilty of your actions that in turn may cause you to withdraw and avoid others. This may lead to further issues such as depression and anxiety.
Top tips for managing anger:
Stop and take a step away from the situation BEFORE you act. Take some time out in order to calm down. This will prevent you from saying or doing things you may later regret.
 Count to ten as a way of helping you to calm down.
 Try deep breathing- slow deep breaths in through the nose and out through the mouth. Focus your attention on your breathing as a way of calming you down and distracting you from the feelings of anger.
Have time to think about what it is that is triggering your anger- you may find patterns. Take some time to write down how you are feeling as a way of 'offloading' the things that are bothering you.
 Practice being assertive. Assertiveness is not the same as aggression; it involves respecting yourself and others.
Use Exercise as a way of improving your overall stress levels. Daily relaxation can also be really helpful to release tension in the body.
Get involved in creative activities such as painting, writing poems, making music and dance. This can help to release built up tension and reduce feelings of anger.
Try and talk to family or friends about how you are feeling. This can help you to not feel alone with how you are feeling and can also help gain a different perspective on the situation.
« Back to News & Blog