IPRS Group celebrates double award win at EADT Business Awards
Monday 7th July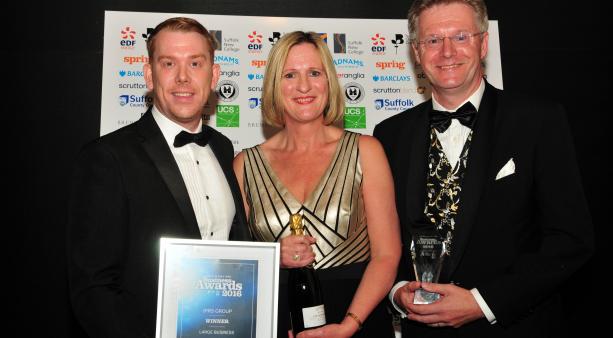 IPRS Group is celebrating having won two awards at the East Anglian Daily Times (EADT) Business Awards.  This is the first time that the company has entered the prestigious regional business awards but it took home trophies for Best Large Business and Director of the Year, for Group CEO Martyn Jackson.
Based in Little Blakenham near Ipswich, IPRS Group employs 162 staff across the UK. It has an extensive in-house team of physiotherapy and rehabilitation specialists, offering a diverse range of clinical products and services to the public and private sectors. Since 2010, IPRS has undergone massive change, transforming from a financially under-performing stand-alone company to a Group of five ambitious and profitable businesses. The Group achieved a record £11million turnover in 2015.
Regarding the Best Large Business Award, the judges said: "The IPRS Group has extended its operations into new areas and developed further existing areas of operation to achieve growth of 40% in revenue for each of the past two years. With approximately 50% of the staff working off site in all areas of the UK, it has been very important to ensure there are excellent lines of communication with all staff. We were impressed by the thorough induction process and the mentor and buddy system for remote workers. We could also see clear development of staff."
Martyn Jackson, aged 53, is Group CEO of IPRS.  He joined the company, then known as IPRS Holdings, in 2004. Since becoming CEO in 2010, Martyn has led IPRS Group to become a multi-million pound, multi-site operation.
Regarding the Director of the Year Award, the judges said: "Martyn Jackson has overseen strong growth in turnover and profit as well as diversification into new developing markets. Turnover reached £11m last year and will grow significantly again in 2016. We were impressed with the clear and distinct direction set for each of the five different parts of the business and the fact that each part has local ownership.
"He is aware of the growing opportunities within the healthcare sectors that IPRS Group operates within, and has a clear vision for future growth, whilst developing his management team to take greater responsibility as the group's businesses develop."
Martyn has a five-year strategy and vision for the Group to double its turnover to £20-25million within healthcare, and expand into other areas; whilst retaining its independence. Crucial to achieving this, Martyn believes, is attracting and retaining the very best people for the senior management team.
This is the 19th year the EADT has staged the business awards, and the fifth year in a row they have been supported by EDF Energy and Suffolk Chamber of Commerce as joint main sponsors. The awards celebrate the best of Suffolk business.
« Back to News & Blog