IPRS Health listens!!!
Tuesday 8st August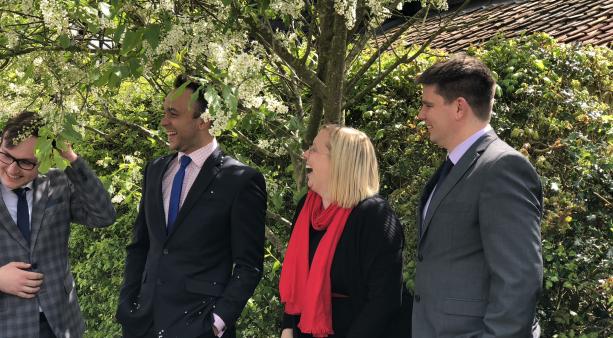 Pictured above, four members of our IPRS Health's Client Relationship Team enjoying time together in this Summer's lovely weather at our Central Contact Centre in Suffolk.
Listening to our colleagues at IPRS Health is very important to us. Over the past 3-years we have undertaken an annual independent Employee Engagement survey. The results of these surveys resulted in us gaining a "Best Company One to Watch" Accreditation in 2016 and again in 2017.
Between June and August 2018, our colleagues completed the Pure Employee Engagement Survey. We are awaiting the final results, but they are looking very positive and engaging!  33,000 employees across hundreds of businesses have completed this survey, including 69 employees within IPRS Health.  Across the IPRS Group, 157 colleagues completed the survey (96.3%). Early analysis of our results have meant we finished in the Top Quartile of all the companies that took part in the survey. As a result of this, we have been invited to the Pure Best Employers Awards Conference in Newmarket in October 2018 where we have the chance gain a Gold or Platinum Accreditation for being a Best Employer – this is due to the honest results provided to us in the survey by our colleagues! 
In addition to IPRS Health attending this conference as invitees, our Managing Director, Marc Holl, will be a Guest Speaker providing delegates with an insight of how we have focused our attention on staff engagement. On reviewing the early results with IPRS Group's HR Manager, Marc said "I am delighted with the early data we have been able to extract from the online portal available to us now the survey has closed. Both the quantitative and qualitative results are incredibly compelling. I'm looking forward to working with the team to promote the positive testimonials, along with discussing all ideas and feedback provided by employees including some suggestions on how IPRS Health can further improve our engagement with our colleagues. This is exactly what we wanted to get out of undertaking an independent employee survey like this". 
More information on this Award Ceremony and conference can be found by clicking here. 
Over the next few days, we'll be releasing snippets of quotations and feedback provided by our colleagues in the survey across our Social Media platforms which can be accessed by clicking on the following links:
« Back to News & Blog