IPRS Health win Suffolk Business Customer Care Award!
Friday 7th July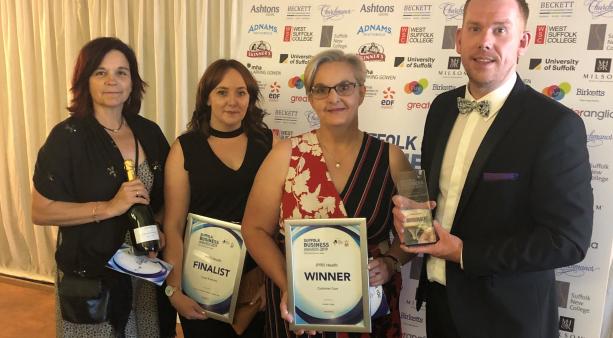 Excellent customer service is key to the success of any business, small or large. IPRS Health are delighted to have been named winners of the 2019 Customer Care Award at the 2019 East Anglian Daily Times Suffolk Business Awards.
IPRS Health, winners of the Best Employer award at last year's event, were in a tough category; up against Best of Suffolk, Kingsfleet News and The Hearing Care Centre in the event hosted by comedian Tom Allen at Milsoms in Kesgrave last night.
Managing Director, Marc Holl, who attended the event along with Lesley Clarke (Customer Service Delivery Manager), Natalie Lewis (Customer Service Advisor) and Sharon Foulkes (Supply Chain Relationship Coordinator) was delighted to pick up the award and this morning said:
"We class customers as anyone who receive services or support from ourselves and includes our patients, corporate clients, referrers, and our supply chain. We are committed to ensuring we deliver an exceptional level of service to these customers and have worked hard to improve the customer journey for all this year. To have this acknowledged by the Judges of this year's Best Customer Care Award and recognised as providing the best customer service in Suffolk is a great achievement and one everyone across IPRS Health should be proud of."
The judges were looking for businesses who showed a clear focus on their customers' needs along with evidence of initiatives designed to increase customer satisfaction, something Lesley Clarke, Customer Service Delivery Manager was delighted to be recognised for. She said:
"It's fabulous to win the customer care award and gain recognition for the great work our front-line teams undertake daily with our clients, patients and partners. "
This award compliments the Best Service Award we picked up at the Vitality Health Suppliers awards in 2018 and reaffirms our commitment to all our customers.
Elsewhere on the night IPRS Health were a Finalist in the Best Large Business category which was won by Timberwolf.
« Back to News & Blog