The Six P's and How Failing To Prepare Is Preparing To Fail
Friday 9st September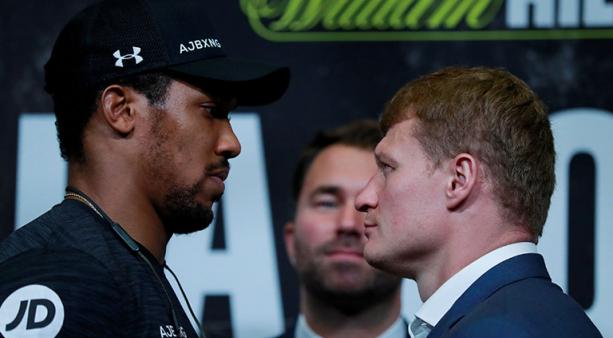 This weekend Anthony Joshua, the unified heavyweight champion of the world, takes on his latest challenge, in the form of Russian veteran Alexander Povetkin. This represents another tough test for the Brit but he has already repeatedly demonstrated how he thrives under the pressure of a big stage. His continuing success is at least partly attributable to his diligent fight preparation, which leaves no stone unturned in guaranteeing that his performance peaks come fight-night.
In the build up to Saturday's event, Joshua has supplemented intense sparring sessions with specific eye-movement exercises and is allowing himself more sleep when he feels he needs it, adopting a more holistic approach to ensure that he doesn't burn out before the fight even gets underway.
Just preparing for an event, whether that's defending a world championship belt or running your first marathon, can pose a great challenge in itself, but is a vital factor in one's chances of success. The following paragraphs briefly explore some of the strategies that you can use to optimise your own preparation for an event, allowing you to perform to the best of your abilities. 
Physical preparation
When planning preparation for an event, most of us automatically concentrate on the physical training aspect. It goes without saying that, if you are planning on running a marathon, you will need to have put in the miles for many months before the starting gun! As discussed in our previous blog on graded loading (Grand Slams & Graded Loading), gradual progression and building onto a base level of training are key in both reducing the risk of injury, and in enabling peak physical performance. Therefore, whatever your event, you need to ensure an adequate level of training for the specific requirements of the challenge, executed over a long enough period of time for training adaptations to take place.
Most people are able to commit to the physical training effort required, but this is often at the sacrifice of sufficient time to rest and recover. The importance of sleep in health and wellbeing is becoming increasingly clear, but still frequently overlooked. During a recent interview, Anthony Joshua described how the mentality of boxing training can still be very 'old-school', in that fighters, historically, are expected to rise in the very early hours of the morning and be ready to train. Joshua explained that, now, he allows himself to sleep later and to start training when his body feels ready, which he believes enables him to train at a higher intensity and leaves his body feeling fresher.
Mental preparation
Particularly with endurance events, psychological factors can determine peak performance as much as physical capacity; therefore, it is equally as important to ensure adequate mental preparation for the challenge ahead. Common pitfalls with mental preparation include being too outcome-focused and worrying about the various scenarios that might occur during the event, most often beyond the control of the individual. Another potential mental obstacle is 'hitting the wall', the term given to the common occurrence experienced with endurance events, of suddenly feeling devoid of energy, coupled with intense negative thoughts and a desire to give up.
Fortunately, there are several strategies to use in overcoming these psychological barriers. One of these is 'Self-talk', the use of one's 'internal voice' to repeat positive messages and affirmations, to help dispel negative thoughts and urges. An easy form of self-talk often employed by runners is using a 'mantra' – a Sanskrit word meaning 'instrument for thinking' – a short, snappy phrase that can be repeated over and over during an event, to improve motivation and that can be as simple as "don't stop, just keep running"!
Developing a pre-event routine can also be helpful; many athletes go through a sequence of habitual behaviours before an event that might include what they eat for breakfast, what music playlists they listen to, or even which sock they put on first. Pre-event routines can assist in improving focus and reducing anxiety, by providing a feeling of familiarity and calm. These are, naturally, very individual, as different people need different levels of excitability to achieve peak performance, so it is important to work out what works best for you and, if necessary, to make only small changes at a time.
In summary, the importance is to focus on what you can control, and not to worry about what you can't, and to make sure that you plan your event preparation carefully. Benjamin Franklin said, "By failing to prepare, you are preparing to fail" and as the old British Army adage goes, "Proper preparation and planning prevents poor performance'; but, above all, remember to just go out and enjoy whatever event you have signed yourself up for – even if it's dodging punches from a 100kg opponent!
« Back to News & Blog